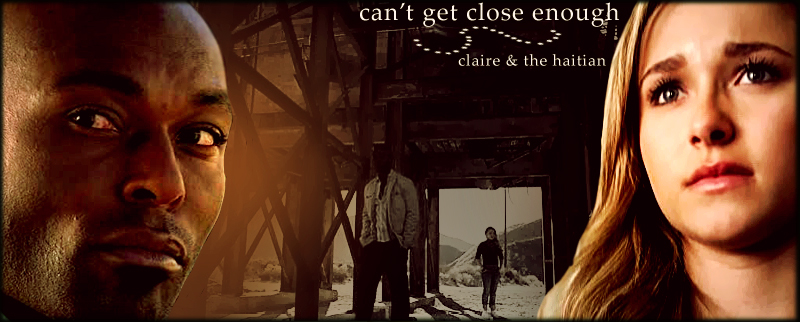 This page last updated March 5, 2014.
Claire Bennet & The Haitian centric Fan Fiction
These are fiction I've written about the NBC show Heroes. The stories below feature Claire Bennet and The Haitian. Some may be 'shippy, some may just be gen fic. There may be some under age sexual content in these stories. I will warn for it in the story, but if this offends you move on! Feedback is always welcome as I cannot write better without it, but if you plan on being petty or cruel please don't bother.
Most of these stories will be written for the Heroes50 LJ community challenge. The table is located at the bottom of this page as well as on my LiveJournal and here on my site with my other challenge tables. I'll link each story in the table.
If you'd like to be updated when this page, or any of my fan fiction pages, are updated, please subscribe to my Yahoo Announcement Only Groups. I send out announcements on Sundays only when I've added new fics to my site. My member list is hidden so no one but me has access to your name or email address. If I'm in a creative spurt and you must know the moment I've updated a fic you can check my LiveJournal where I will post updates as I do them. The LiveJournal in no way replaces my Yahoo Group, I just don't want to bombard email boxes during those weeks I'm particularly busy. You can also go to my Fic Updates Page right here on my site and get all my updates in one place regardless of fandom.
Multi-Chapter Fics
Complete
Outside Is the Storm
Knowing her grandmother won't be much help, Claire turns to the only other person in the Petrelli mansion that could comfort her not knowing what's become of Peter & Nathan.

Yearning, Burning Arms
Claire's in New York for two weeks on her own after graduating from the boarding school the Petrelli's sent her to, unwatched and without a chaperon (or so she thinks) and plans to live it up. There she meets up with the Haitian after two years of not seeing him and the two finally face the inevitable.
Works In Progress
Can't Afford To Be Innocent
Claire was abducted from the Bennet's years ago and not found until recently, despite Noah's best efforts at locating her.
Mexico Series (a series of stand alones)
Pleasure is Mine Series (a series of stand alones of a more mature tone with a minimum rating of FRM/R for each)
The Midnight Hour Added 09/05/2008
Stand Alone Fic (all complete)

Return to Top
Info. on icons used for background:
The non-illustrated icon is courtesy of lay-of-luthien @ LJ. She's got some nice work, and did this and 4 others very quickly! The illustrated icon is courtesy of: julietbunny who gave me this in addition to some other great goodies for the Heroes_Holidays Spring Hiatus project.
---
Home
E-MAIL