This page last updated May 31, 2006. All links have been checked.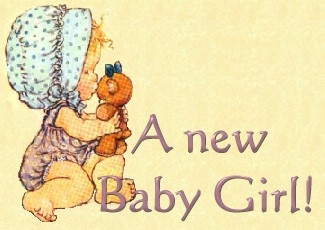 A little about my family. My daddy's name is Lee. He worked as a bus driver for the Fargo bus system for 14 years until recently. He has a sister, Anna, who is my aunt and is married to my uncle, Billy. They don't live too far away from us and we go to their house once in a while. Daddy and I get to spend our mornings together. I get to run around in the kitchen. I love to take things out of the cupboards. Daddy's dad lives far away in Mississippi so I don't get to see them real often, but they talk every week and we send them pictures of me as I grow.
My mommy's name is Susan. She also worked for the Fargo bus system for over 3 years until recently. She has a brother, Bret, who is married to my aunt, Carol. They have two boys (and a third on the way). She also has a sister, Stacey. Mommy likes to take me to the park when it's nice out. I love the swings. We get to go visit my great grandmother who lives near us often. She'll be 100 years old in July 2006. She doesn't remember a lot anymore, but Mommy tells me that she remembers me.
My sister's name is Stephanie. She's 16 and will be a junior in high school this coming fall. She spends a lot of time with me. I love to play in her room, she has lots of things in there for me to get into.
And then there's our pets. We have a cat named Kitchell who is about 8 years old. He's not too sure of me yet, lets me pet him in small doses. I'm getting better at being gentler with him and not so jerky around him. We also have two birds, parakeets. They make a lot of noise sometimes, but they are fun to watch. I'm fascinated with their cage, Daddy keeps boxes around it so I can't get to it and tip it over.
In addition to my parents, sister, and the family mentioned above I have lots of other family. Grandpa and grandma, cousins, and the like. Some I haven't even met yet!

Graphics courtesy of: