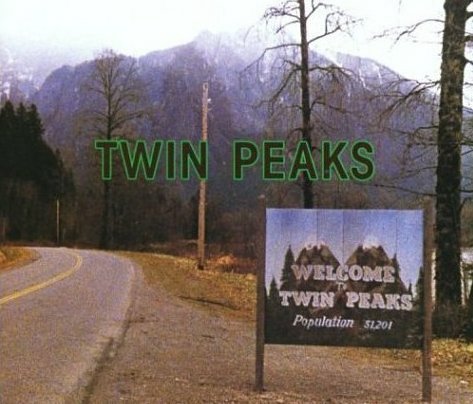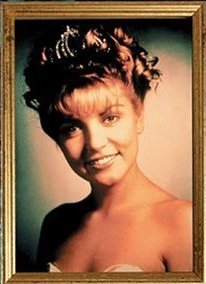 I've believed the truth was out there.
I've been staked through the heart and then found serenity courtesy of Joss Whedon.
I've found myself lost on a mysterious island inhabited by Others.
I know who killed Lily Kane.
I wanted the cheerleader saved so the world could be saved.
But before all that I got caught up in who killed Twin Peaks' Homecoming Queen and girl next door, Laura Palmer.
From the moment the pilot aired I was hooked. From the small town feel that was captured so well to David Lynch's creativeness that is etched on that same town he had me at 'hello'.
David Lynch had caught my attention with Blue Velvet previous to this. In Twin Peaks, he brought us to the rural area of Washington and breathed life into it the way no one else can.
From a Log Lady to the Romeo and Juliet like lovers of Ed Hurley and Norma Jennings who had a chance to finally see their relationship through after years. From the straight-laced and quirky yet loveable Agent Dale Cooper (played brilliantly by Blue Velvet's Kyle MacLachlan) to the sexy temptress Audrey Horne (played by the lovely Sherilyn Fenn) who really doesn't seem as though she belongs in Twin Peaks at all.
All of the characters in Twin Peaks were given a depth that made even the secondary characters intriguing and fun to watch. I don't think over the course of the 30 episodes there isn't one we at least know more about than we did when the show started.
I came to Twin Peaks with Dale Cooper to solve the mystery of who killed small-town beauty Laura Palmer. The town worked its magic on me as sure as it did Dale, making me tune in each week no longer just to discover who killed Laura but to discover whatever I could about the town and those inhabiting it.
There I discovered talking logs, a super strong woman with amnesia, drug running, family upheaval, teen angst, talking dreams, giants, dwarves, exploration of meditation methods, prophetic dreams, things are not what they seem, and that love does not necessarily conquer all.
And through all that I was able to get my fill of pie and coffee at the Double R Diner, finding myself at the end of each episode not ready to leave Twin Peaks!
Fans of David Lynch, or just those familiar with his work, know that he has a tendency to delve into the bizarre. Twin Peaks is no exception, but the bizarreness fits into the world he's created and adds to the uniqueness that was - and still very much is - Twin Peaks.
Twin Peaks lasted for 30 episodes, including the two-hour pilot. There was some frustration with the mystery of Laura's murder dragged on for too long. So Lynch and co-creator Mark Frost cow-towed to ABC and solved the mystery, trying to bring in another mystery that would keep a character like Dale Cooper in town.
Some say it didn't work. I've heard fans say they stopped watching or didn't feel the show was as strong once Laura's murder was solved. And while I agree it's evident in some episodes that they were trying to get their sea legs after meeting the demands of the network, the show still satisfied me. Simply, there was nothing else like it on at the time.
I enjoyed the characters so much that I did not mind the bit of aimlessness the show found itself in trying to give the "masses" what they wanted. I feel that the show ended on a strong note and there was much fodder in what turned out to be the final episode of the series that could have made for an interesting Season 3. (Even one of those "Oh [insert choice word here]" moments.
If you're a fan of season-long arc shows that are character driven and don't mind the journey to a resolution, then Twin Peaks is the show for you. Twin Peaks was the first show that I ever "had to watch". Whatever I was doing, wherever I was I made sure I was home to watch it - even as a 20 year old when they moved to a weekend night!
There are some familiar faces that it's fun to see so much younger than they are today.
I was so pleased to find upon my viewing of the Gold Box Edition during the month of January that the series captured me and held me as intently and powerfully as it did 18 years ago.
In addition to the TV series, there was a prequel movie TWIN PEAKS: FIRE WALK WITH ME, which detailed the last few days of Laura Palmer's life. While I don't find it as strong as the TV series, it does provide some insight into Laura and the events her death triggered.
Twin Peaks aired on ABC and premiered in 1990. It is available in DVD format via the (newly released) Gold Box Edition.
I don't see this edition available from Netflix, but the Season 1 and Season 2 sets are. Unfortunately, the Season 1 set is missing the pilot episode. If you can't get a hold of the Gold Box Edition, I would certainly recommend the sets without the pilot. But do try to get a hold of the Gold Box Edition, it's well worth the effort.
This is written for LJ community smallfandomfest by Susan Falk/apckrfan.
Return to Top
Twin Peaks Fan Fiction Index Page | Fan Fiction Index Page | Home
Send Feedback
Story ©Susan Falk/APCKRFAN/PhantomRoses.com