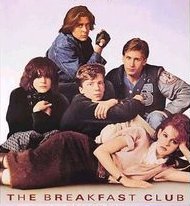 This page last updated May 15, 2016. All links have been checked.
The Breakfast Club Fan Fiction
If you'd like to be updated when this page, or any of my fan fiction pages, are updated, please subscribe to my Yahoo Announcement Only Groups. I send out announcements on Sundays only when I've added new fics to my site. My member list is hidden so no one but me has access to your name or email address. If I'm in a creative spurt and you must know the moment I've updated a fic you can check my LiveJournal where I will post updates as I do them. The LiveJournal in no way replaces my Yahoo Group, I just don't want to bombard email boxes during those weeks I'm particularly busy. You can also go to my Fic Updates Page right here on my site and get all my updates in one place regardless of fandom.
April 2018
I apologize for my dry spell. I'm not going to go into details, but I am back and do plan on working on and completing the various works in progress I have open. I, however, don't plan on tackling more fics at this time. Once I've caught up on the WIPs I plan on finally pursuing my original works. That's not to say that I won't write fan fiction, but the 100,000 word stories I've been writing lately won't happen. Any thoughts, comments, or suggestions please feel free to drop me a note.
April 2015
I don't normally post OT/personal stuff on these pages, but as this is the fandom I've been writing in primarily of late I'm posting this here. I have some personal things going on at the moment. I am writing, but not as quickly as I'd like and not on one story at a time some days. So please bear with me and keep checking back for updates. Thanks for understanding. ~apckrfan
Multi-Chapter Fics
Complete
Breaking It Wide Open Added 06/16/2015
Set about eight months after the events in the movie. John has a secret he managed to graduate high school without anyone finding out. Claire finds out inadvertently. This has a bit of a crossover with Adventures in Babysitting, but as it's a couple years before the events in AiB it's not crucial you've seen that movie. Just know I'm borrowing a couple of the minor characters. I'll put them back where they belong, I promise! There is a significant OC in this story as well.

Hidden Secrets Added 04/23/2017
Eighteen years later, John's faced with a circumstance from the day of detention he never thought he'd have to deal with. This is written for Round 6 of SmallFandomBang.

I Turned Away Added 04/13/2015
Four years after the movie, Claire gets a late night phone call from the last person she'd expect to hear from. This is a Claire/John fic and is very long. It sort of took on a mind of its own as I was writing it.

Maybe Next Week 8/26/2014
There was a reason John stayed at his parents' house and never dropped out of high school. Eight years later John crosses paths with Claire again in an unexpected way. Claire finally finds out why it was John stayed. This is a Claire/John fic with one fairly significant OC.

The One I Want To Go Through Time With 4/1/2014
On the verge of becoming engaged, home for a visit Claire takes Richard Vernon's words to heart and visits John Bender five years later out of morbid curiosity. This is based on the following quote by Richard Vernon: You think he's funny? You think this is cute? You think he's "bitchin," is that it? Let me tell you something. Look at him - he's a bum. You want to see something funny? You go visit John Bender in five years. You'll see how goddamned funny he is.

The One Your Mother Warned You About 5/7/2014
What if unknowingly John got his wish of impregnating the prom queen that March day? This starts eight weeks after the movie, so the end of school is happening pretty fast. This is a Claire/John fic, though I can't guarantee the ride to that ending will be an entirely pleasant one.

Take You Everywhere 4/26/2016
Claire works as a vet and stumbles into a situation where her services are needed, running into John for the first time in years. Written for Round 5 of LJ community smallfandombang

Teach Me To Live 10/11/2014
General spoilers. Ten years after high school graduation, Claire has a reunion with some of her friends from school of a different variety. This is a Claire/John fic with some OCs.

With All That I've Done Wrong 7/30/2014
John is working as a roofer and is surprised to find out the house he's working on belongs to the Standish's. That's not where the surprise for him stops, though, as he discovers there was a consequence of their time together in detention day over a year ago. This idea came to me as I was writing The One Your Mother Warned You about, wondering what would happen if Claire didn't tell John.
Works In Progress
Cold As Stone begun 10/31/2014
Set ten years after the events in the movie. Claire asks John for an unusual favor when she's in a wedding where someone is trying to set her up with someone she doesn't like.

Disguises begun 4/01/2015
General Spoilers for the movie. If you've seen it you're golden, however, this is a bit AU. Things are not exactly as they seem to be between John and Claire that day of detention.

Once In Your Life begun 5/8/16
An AU set right after the events of the movie. Claire learns some secrets about John when she spends some time with him after the day of detention. General spoilers for the movie, but it is AU in John's role in things at Shermer High. (This was an idea that came to me and would not go away. I need another WIP like I need a hole in the head, but here it is.)

Slowly Melting begun 4/01/2015
John runs into Claire working a most unexpected occupation, not realizing there's a very good reason she's there. There will be some jealous John in here until he discovers her reasons for doing what she's doing. Because why would he be nice about finding out Claire Standish was working as a stripper?

Thrill To Every Line begun 5/8/2014
Homecoming after graduation and old faces run into one another home from the various places they've scattered to. This is primarily a Claire/John fic, but there is some Allison/Andy in here, too.

Will You Still Remember Me WIP begun 07/2015
John's cousin is new in town, newly widowed and starting over after a bad marriage. John's out of his element dealing with an emotionally needy woman so he turns to the one woman who knows of who he'd trust with her. This is a crossover with Twin Peaks, however, you don't need to be familiar with the intricacies of that show to get what's going on as this is set in The Breakfast Club-verse. I'm just borrowing Shelly Johnson for a while. I'll put her back.
Discontinued
No More Free Rides
To those who might have been reading it, I've decided to delete No More Free Rides. It was a work in progress featuring Alison & Andy. Unfortunately, I just wasn't happy with what I'd come up with so far and couldn't seem to find the inspiration to go further with it. Rather than leave it up incomplete forever with no intention of finishing it I took it down. Even sitting through the movie yesterday did nothing to inspire me with this fic. Sorry for the inconvenience to anyone who might have been reading it and looking forward to further updates.
Stand Alone Fics (all complete)
Return to Top
The Breakfast Club-related FanListings:

Return to Top
---
Home
E-MAIL