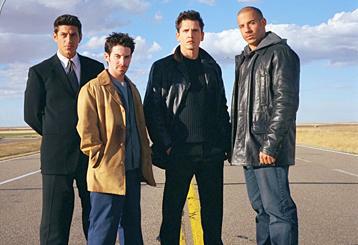 This page last updated May 3, 2012. All links have been checked.
Knockaround Guys Fan Fiction
If you'd like to be updated when this page, or any of my fan fiction pages, are updated, please subscribe to my Yahoo Announcement Only Groups. I send out announcements on Sundays only when I've added new fics to my site. My member list is hidden so no one but me has access to your name or email address. If I'm in a creative spurt and you must know the moment I've updated a fic you can check my LiveJournal where I will post updates as I do them. The LiveJournal in no way replaces my Yahoo Group, I just don't want to bombard email boxes during those weeks I'm particularly busy. You can also go to my Fic Updates Page right here on my site and get all my updates in one place regardless of fandom.
Multi-Chapter Fics
Complete
Everybody Wants To Put Me Down
Taylor Reese has joined his friend Matty in leaving the family business behind them. Trying to get his life together and legitimate he struggles to overcome his past and the connections still associated with his name. Claire's in New York with the Petrelli's. This is a crossover with the TV show Heroes and is a sequel to Seventh Inning Stretch.

Seventh Inning Stretch
Buffy Summers encounters a sports agent in Las Vegas who just recently moved to LA from the East Coast while working as a security specialist to put herself through college. What she thinks is a one-night stand makes her life incredibly more complicated than it should.
Stand Alone Fics (all complete)
Return to Top
---
Home
E-MAIL